RECIPE OF THE WEEK: Singapore Sling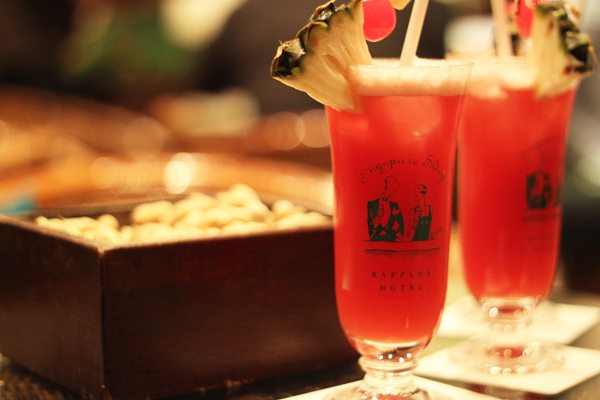 Enjoy another Thirsty Thursday with the South-East Asian flavor of the Singapore Sling!
The Singapore Sling was developed sometime before 1915, by Ngiam Tong Boon. A Hainanese bartender, he was working at the famous Raffles Hotel Singapore, in the bustling Long Bar. In the Hotel's museum, visitors may view the safe in which Mr. Ngiam locked away his precious recipe books, as well as the recipe that had been hurriedly scribbled on a bar napkin by a visitor in 1936.
A refreshing treat, the Singapore Sling has made it to neighboring countries, but can still found at it's home bar at the Raffles!
The Raffles Hotel Original Singapore Gin Sling Cocktail – SERVES 4
Total Time: 3 mins
Prep Time:3 mins
Cook Time: 0 mins
Ingredients:
6 ounces gin
2 ounces cherry heering
1 ounce Cointreau liqueur
1 ounce benedictine
16 ounces pineapple juice
2 ounces lime juice
1 1/3 ounces grenadine
4 dashes bitters
Directions:
1: Shake with ice.
2: Strain into an ice filled collins glass.
3: Garnish with cherry and slice of pineapple.
4: SINGAPORE SLING.
Tags:
Contact us for More Info!