Ski Portillo with John Egan!
Ski Portillo with John Egan this summer from August 2nd-11th, 2018  in Chile
Want to escape the heat and hit the slopes for your summer vacation? Sugarbush Resort has teamed up with Ski Portillo and world-renowned skier and 2016 hall of fame inductee, John Egan, to arrange a week of skiing in Chile this August!
Upon arrival in Santiago, Chile, Egan and guests will embark on a half-day guided food and wine tour, followed by a night lodging at a five-star Santiago hotel. The next morning the group will receive transport to Ski Portillo in the Chilean Andes where the real fun begins – seven days of skiing or riding at Ski Portillo with John Egan as a mentor and guide! Slopeside lodging will be provided at Hotel Portillo, as well as four meals per day. After seven nights lodging, Egan and guests receive transport back to Santiago International Airport for their flight home.
CONTACT MAGGIE AT YAMPU TOURS FOR A COMPLETE ITINERARY OR TO RESERVE YOUR SPACE NOW
This trip is recommended for advanced skiers/snowboarders only. Space is limited to 10 skiers and riders.
About the Resort
Portillo Hotel is South America's oldest ski resort and has been ranked one of the 10 best ski resorts in the world by Warren Miller, Ski Magazine, and the Travel Channel.  The resort has an incredible location by the beautiful Inca Lake and features a heated outdoor pool and Jacuzzi, fitness center, sauna, full-court gymnasium, cinema, game room with rock climbing wall, disco, and piano bar. Portillo Hotel also offers complimentary aerobics and yoga classes. The resort limits passengers to 450 for an optimal experience with minimal wait times and crowding. The powder skiing/riding is above the tree line and the mountain's steep terrain and great hiking make it a popular destination for advanced and expert skiers.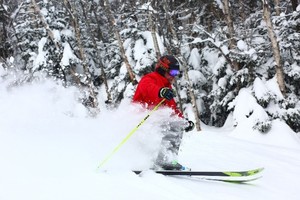 About John Egan
John Egan is among the most recent inductees into the U.S. Ski & Snowboard Hall of Fame, and is rated as one of the top 48 greatest skiers of our time and most influential people in the last 35 years, as well as one of the top 50 skiers on the continent and top 7 in the world! He has made dozens of first descents and has been featured in over 14 Warren Miller films. Egan is one of the original members of the North Face Extreme Team and he is recognized as a pioneer of extreme sports around the world.  But John is more than a famous Warren Miller film star: he is a gifted coach, an exceptional mountain guide, and a lifelong Sugarbush devotee. Coaching from John is an exceptional experience, whether it is big mountain skiing, cliff jumping or backcountry exploration.
Highlights of the tour include:
Sampling wine, cheese, and meats in Santiago
Skiing with world-renowned John Egan on beautiful and challenging terrain
The company of local Portillo guide to lead you on their renowned off-piste terrain
Watching incredible sunsets over the Andes from the heated outdoor pool at Portillo
Tags:
Contact us for More Info!