New Tours in the Middle East and Northern Africa!

Announcing New Tours in the Middle East and Northern Africa!
Yampu is ecstatic to announce new tour destinations in the Middle East and Northern Africa. To celebrate, we are offering 15% off all tours to the Middle East or Egypt until May 15, 2017! Read about our newest destinations below and be among the first to experience them with a 100% personalized Yampu trip.
United Arab Emirates
"Home of the 'City of Gold'"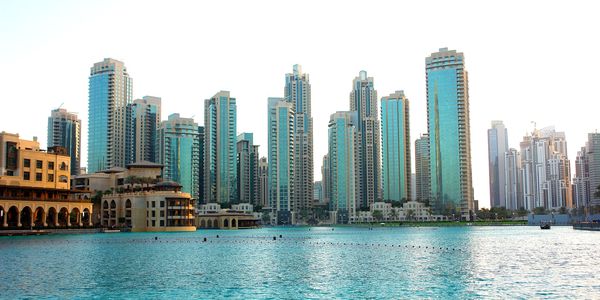 The United Arab Emirates is made up of seven emirates. Often referred to as the UAE, the country has become a major global business hub. Home to many Western companies, many westerners are seeking out this country as a travel destination for its luxurious malls and hotels. The UAE is home to some of the world's greatest and most unique attractions such as the world's largest building, the Burj Khalifa, Ski Dubai, the region's first indoor ski slopes, and Ferrari world, the world's first and only Ferrari theme park. Bordering the Persian Gulf, the country is known for its beautiful white beaches and warm water. Outside of the cities in the UAE, there is a vast desert that offers many activities such as dune drives, camel rides, sand boarding, and overnight camp outs.
See a sample itinerary here.
Oman
"The Pearl of Arabia"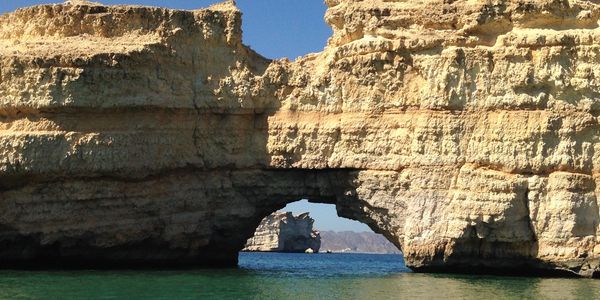 Oman is a beautiful nation located on the Arabian Peninsula. The landscape is composed of sand dunes, desert, oases, and long coastlines along the Arabian Sea, Persian Gulf, and Gulf of Oman. Oman's beautiful port capital, Muscat, is a beautiful destination to adventure to with caverns, coves and beautiful seaside landscapes. Immerse yourself in the rich history of this country whose ancient settlements date back to the Stone Age. Experience these proud inhabitants' heritage, customs and values firsthand.
Learn more about this amazing ancient culture in a sample itinerary here.
Jordan
"Beyond the Jordan River"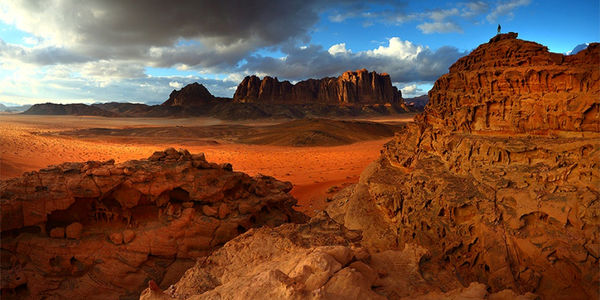 At the crossroads of Europe, Africa, and Asia, Jordan is a small and peaceful nation that had been under the control of many different empires throughout history, each leaving its mark on the country's culture. Jordan rests on the east bank of the Jordan River and is home to architectural marvels such as "The Rose City," Petra, which features magnificent and ornate buildings carved into red-rock cliffside. Learn more about the fusion of cultural influences and the co-existence of different religions in this beautiful country or enjoy the striking desert landscape. There is so much history here that travelers can experience, including biblical sites such as Mt. Nebo, the site that is believed to be where Moses saw the Promised Land.  Visitors can also see the Maqdas Baptismal Site, thought to be where John the Baptist lived and worked and where Jesus was baptized. Adventurers can opt to camp out in Jordan's famous desert valley, Wadi Rum and soak in the beauty of its moonscape terrain.
Enjoy numerous highlights in Jordan with an itinerary such as this one.
Israel
"The Holy Land"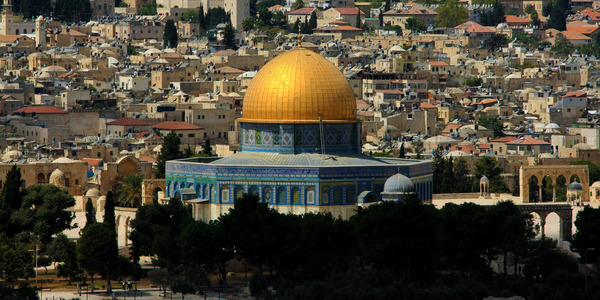 On the Mediterranean Sea lies Israel, the biblical Holy Land for Christians, Jews and Muslims. Here you can visit the world's oldest city, Jericho, which is home to rich biblical history and diverse cultures. Other famous sites include Nazareth, the place where Jesus grew up, as well as breathtaking historic and religious sites such as the Church of the Nativity, the ruins of the synagogue where Jesus taught, and the Last Supper Room. Jerusalem is a spectacular city for seemingly endless historic and religious exploration with countless significant sites to visit while Tel Aviv is a more modern economic and financial hub for the country. Enjoy the mix of cultures and religions, visit UNESCO world heritage sites, magnificent gardens and the healing clays of the Dead Sea.
For a sample itinerary of a tour that showcases the best of Israel, visit here.
Turkey
"Land of the Turks"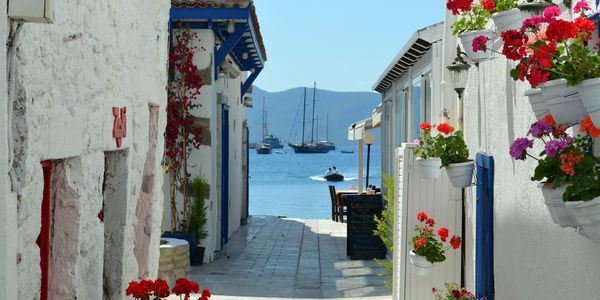 Turkey has taken advantage of this strategic location between Europe and Asia for a long time and it has resulted in a rich cultural fusion. Many civilizations can be traced back to this country including the Greeks, Romans, Byzantines, and Ottomans. The country offers something for every type of traveler as there is a unique blend of eastern and western culture and history to be discovered here. Charming streets, ornate and awe-inspiring crafts, historical sites, and more are a delight to behold. Travelers can tour Istanbul's historic Sultanahmet area, home to the Blue Mosque and Hagia Sofia or take a traditional Turkish cooking class. Beach relaxation or vivacious nightlife in Bodrum make for an exciting addition to any trip to Turkey. There are also hot air balloons that travelers can take to fly over the majestic landscape of Cappadocia or explore the ancient Greek ruins in Ephesus from the most magical perspective of all.
See an example itinerary for a tour of Turkey here.
Egypt
"The Gift of the Nile"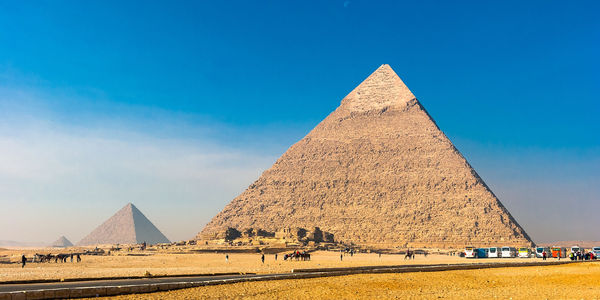 Egypt is home to one of the Seven Wonders of the World, exotic and ancient history, and magnificent and versatile sites to see- truly a desert destination not to be missed. Build a personalized tour with one of our tour consultants to see whatever side of Egypt you desire. Highlights include the capital city, Cairo; Alexander the Great's city, Alexandria; the home of Valley of the Kings, Luxor and countless temples and tombs.
See a sample itinerary here to get you started!
For more information on Yampu's incredible personalized tours to the Middle East and Northern Africa, visit our website.
Yampu has also been nominated for South America's Leading Tour Operator for the World Travel Awards 2017. Vote for us below!

Tags:
Contact us for More Info!